JVP Events
Confronting Islamophobia, Antisemitism and all forms of racism
Thursday, November 15, 2018, 4 to 6 pm
UC Berkeley, BOALT Law School, Room 170

This teach-in will explore the meaning of Sanctuary for All and what this means for community practice and public policy.  The discussion will focus on how to combat Islamophobia and Antisemitism as part of creating a sanctuary city for all. The teach-in will be facilitated by the Arab Resource and Organizing Center, Islamophobia Studies Center and Islamophobia Research and Documentation Project, Jewish Voice for Peace and the Middle East Children's Alliance. The event is one of many regional events taking place during United Against Hate week.
Events From Our Friends

Thursday, November 15, 2018 at 7 PM – 9 PM
Berkeley Friends Church 1600 Sacramento St, Berkeley, CA 94702
Two blocks from North Berkeley BART Station
This event is free and open to the public
FROM UNDER THE RUBBLE documents the lives of members of the Samouni family as they try to live with the shocking memory of what happened to them during the 2009 Gaza Massacre (Operation Cast Lead) that saw the father and a four year old brother, along with forty-eight other family members killed and many more injured. Their story is told through the use of archival footage, footage shot in present day Gaza and an animation that the Samouni children created as part of their trauma recovery therapy. The film juxtaposes the innocent perspective of children with the harsh realities of war.

Monday, November 19, 2018 at 6:30 PM – 8 PM
AROC: Arab Resource & Organizing Center
522 Valencia St, San Francisco, California 94110
Join us the evening of November 19th as members from the U.S. Palestine Community Network (USPCN) join us to share a report back from their recent trip to Palestine. Come learn about the current conditions on the ground as it relates to political prisoners, refugees, health, land theft, and the right of return.
This event is free and welcome to all ages. Donations to support the speakers as they travel the country is greatly appreciated.
Hosted by the Arab Resource and Organizing Center.
For more questions contact info@araborganizing.org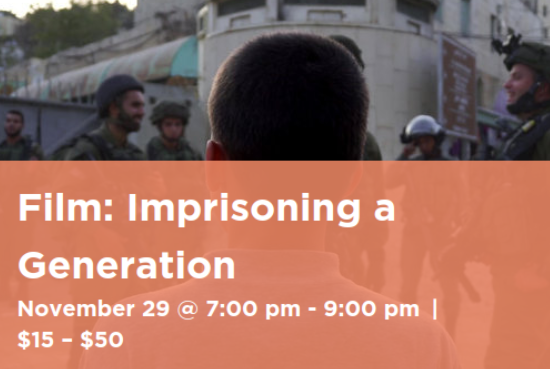 Berkeley City College Auditorium
2050 Center Street, Berkeley, CA 94704
"Imprisoning a Generation" is a documentary film which follows the stories of four young Palestinians who have been detained and imprisoned under the Israeli military system. Their perspectives, along with the voices of their families, form a lens into the entangled structures of oppression that expand well beyond the prison walls.
TICKETS: $15, $25, $50 available now through Eventbrite and also available at the door
Benefit for MECA programs in Palestine & Lebanon. Wheelchair accessible.
Join us!
After the film, MECA Director Zeiad Abbas Shamrouch and film director Zelda Edmunds will give updates and take questions.
November 29 is also the International Day of Solidarity with the Palestinian people.